CORONAVIRUS INFORMATION
Our coronavirus site includes guidance on what to do if you have symptoms, a positive case or close contact with someone who has COVID.
fostering personal & professional growth
Welcome to NEOMED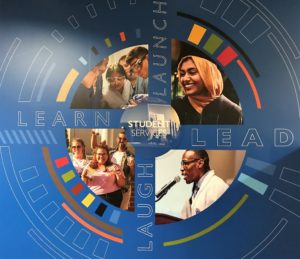 The Student Services staff welcomes you to our community of learners. Our goal in Student Services is to support your academic and personal success through learning support and advising, leadership and involvement opportunities, social connections, maneuvering the academic processes, and encouraging your participation in campus decision making. Visit our office in R-132, meet the staff, explore our web resources, and allow us to assist you with achieving your goals. Welcome to NEOMED!
OUR MISSION
We work collaboratively to prepare, develop, support, and advocate for our students' successful progression towards their educational and personal goals to foster lifelong learning and leadership.  
OUR VISION
To model excellence, collaboration, and leadership to positively impact our students, our campus and our communities.  
OUR CORE VALUES
NEOMED "CALLS" on Academic Affairs & Student Services to:
Collaborate
Advocate
Lead
Learn
Support
Leadership & Service Opportunities
The NEOMED Office of Student Services provides and supports student development and leadership opportunities through student organizations, community service opportunities, NEOMED Student Council and more.
NEOMED Student Council
The NEOMED Student Council (NSC) is a critical component of the University. Elected members of NSC serve as the class representatives to the University faculty and administration
Student Awards
Student awards are presented each year to individual students and student organizations who have shown a strong commitment to community service, leadership, and overall involvement in both the NEOMED and Northeast Ohio Communities.
Credentialing & Insurance
Students at NEOMED are required to maintain compliance with a number of immunizations, titers, drug testing, and medical insurance. The staff in Student Services assists students with enrolling in or waiving NEOMED medical insurance, instructing our students on how to upload and maintain required immunizations, drug testing, background checks, immunization clinics, and clearance for participating at clinical sites that require compliance with these credentialing expectations.
More on Credentials, Medical Insurance & Immunizations
Graduate Internships
Student Services and various other Academic Affairs departments offer graduate internships for students enrolled in masters or doctoral degree programs focused on higher education and student personnel services. Internships are tailored towards the professional development desires of each intern to foster their career development while also focusing on supporting the services provided to each office.
Learn more about internship opportunities for practicum credit.
Student Conduct & CAPP
Students at NEOMED are expected to maintain the highest level of conduct and professionalism in their actions both in and out of the classroom, as well as in activities associated with the University.