Live at The Village at NEOMED
The Village at NEOMED, the University's independently operated on-campus residential apartment community, is only steps away from the main campus.
The Village features fully furnished one- and two-bedroom apartments with study space, bathrooms and walk-in closets. Community lounges, game rooms, outdoor pavilion areas and planned activities for residents allow students to relax and connect with their peers.
Adjacent parking, card-access entry systems and 24/7 security provide ample peace of mind.
---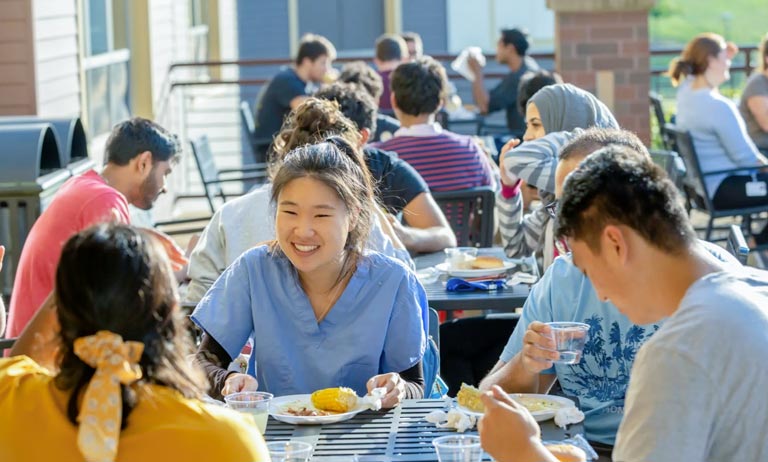 Dining on campus
With a full-time executive chef right on campus, NEOMED boasts delicious, healthy and balanced dining options for students, faculty and staff.
The Bistro
All Bistro items are made-to-order using the freshest ingredients.
Visit three stations from which to choose a meal to satisfy your hunger:
Rock-a-Noodle offers sauteed entrees, from the classic macaroni and cheese to Korean BBQ.
EMS or Exciting Meals Served offers sandwiches, quesadillas, pizzas, chicken tenders and fried appetizers.
The Doctor's Orders is our entrée and wrap-of-the-day station. Chicken Alfredo, prime rib, taco salad and pesto tortellini are but a few examples of dishes served. The wrap selection at this station is subject to change, but the chicken bacon ranch, hummus and cucumber, and teriyaki chicken are all student favorites.
Grab & Go selections are available.
The Bistro is located in the NEW Center. Visit the Bistro's website.
The NEW Center Coffee Shop
The NEW Center Coffee Shop proudly serves Starbucks.
NEOFRESH
NEOFRESH Pick Up Spot is in The Bistro. Orders can be placed online. Remember to go into "My Account" and check the box in Personal Info to receive special offers on orders through NEOFRESH.
Student events
Many student groups on campus hold fundraising events throughout the academic year.
Great food is usually a big part of these events.
Catering your events
The NEW Center Conference Services has a great banquet menu for on-campus and community group events.