CREATING TRANSFORMATIONAL LEADERS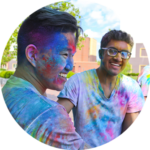 +
SERVICE & COMMUNITY ENGAGEMENT
+
ADMINISTRATIVE & ACADEMIC SUPPORT OPPERATIONS
What's a microaggression? equity and inclusion in student mental health
The human toll taken by the "double pandemic" of COVID-19 and racism experienced in daily life has increasingly been acknowledged as an issue that need to be addressed on university campuses.
Toward Better Wound Healing
It's not pretty, and its name is a turnoff. But a venous leg ulcer (VLU) should be taken seriously, because of the consequences if it doesn't heal. Improved treatment of such wounds could enormously benefit the 1% of the global population who suffer with a VLU, says Judith Fulton, Ph.D., senior research scientist at Northeast Ohio Medical University.
Mission
NEOMED harnesses diversity, innovation and collaboration to create transformative leaders and improve health through education, discovery and service.
Vision
To be the model of excellence in innovative education and impactful research to create transformational health care leaders of tomorrow. 
Core Values
NEOMED incorporates the following values in all that we do: