Education Innovation Award
The Education Innovation Award supports faculty in developing diverse and innovative approaches to engage learners in the NEOMED College of Medicine curriculum. Eligible faculty can submit project proposals that enhance the curriculum and provide an Exceptional Student Experience.
Faculty currently teaching in the COM curriculum are eligible for the award. Project proposals must align with the COM Educational Program Objectives and support a formal NEOMED COM curricular component. The maximum award amount is $5,000, with one award per module/course/clerkship and one award per applicant per academic year.
Applications are accepted quarterly. For more information, please contact COM Faculty Development at comfacdev@neomed.edu.
| Award Applications Due | Award Notices to Recipients |
| --- | --- |
| January 15 | March 1 |
| April 15 | June 1 |
| July 15 | September 1 |
| October 15 | December 1 |
Applications will be reviewed only after all required materials have been received.
Past recipients
2022-23
How to Attend to a Dying Patient
Kevin F. Dieter, M.D., FAAHPM, HMDC
Associate Clinical Professor of Family and Community Medicine
Project Goal: To provide NEOMED medical students with the basic concepts necessary to compassionately and effectively attend to a dying patient. Through the use of graphic medicine different teaching tools will be co-created with graphic artist, David Pfendler, and will be provided during the Family Medicine clerkship and at the end of the M4 year.
Involving Students in the Developing of Curriculum and Teaching Content – Student-Centered Teaching/Learning
Feng Dong, M.D., Ph.D., Department of Integrative Medical Sciences (Pictured Right)
Paul Lecat, M.D., Department of Internal Medicine (Pictured Left)
Project Goal: To involve students in FPD curriculum development and provide high-quality teaching material that is customized to NEOMED's current College of Medicine curriculum.
Student-Generated Prosected Specimens for M1 Anatomy Teaching
Catherine E. Mattinson, Ph.D., Department of Anatomy and Neurobiology
Jesse W. Young, Ph.D., Department of Anatomy and Neurobiology
Project Goal: To create resources that provide an engaging yet efficient gross anatomy lab experience for our students in the Human Architecture and Composition (HAC) module.  The student dissectors that generate the prosected specimens will have the opportunity to advance their understanding of human anatomy while practicing important teamwork and problem-solving skills.
Developing Customized NEOMED Course Content that Students want to Use
Arthur Coulton, Ph.D., Department of Integrative Medical Sciences
Project Goal: To facilitate a partnership between Faculty and students so that students can have a direct input into developing effective resources which they can use for study and exam preparation. The three main goals are to 1) help Faculty develop high quality, scientifically rigorous content that is accessible to all learners and that is customized to our curriculum, 2) to help students study more effectively, and to spend less time searching for outside, unapproved resources and 3) to provide high quality resources for students from economically underserved backgrounds at no extra cost to themselves.
2021-22
Project MIMSE: Motivational Interviewing for Medical Student Education
Kristen Knepp, Ph.D., Department of Family and Community Medicine
Project Goal: Project MIMSE was integrated into the M1 Patient, Physician, & Community (PPC) II course, allowing students to be educated and trained on motivational interviewing (MI) by an expert in MI and providing them opportunities to practice and develop their MI skills throughout the PPC II course.
2020-21
Medicine and Disability Studies Thread
Rachel Conrad Bracken, Ph.D., Department of Family and Community Medicine


Project Goal: Apply concepts, theory, and content learned from "Narrative, Medicine, and Disability" in the Project Narrative Summer Institute to the "Introduction to Disability Theory" session for M1 students in Patient, Physician, & Community 2 (PPC 2).
Hands-on Ultrasound Training Simulations for Diagnosis and Ultrasound-Guided Procedures
Janice McDaniel, M.D., Department of Radiology
Photo Credit: Ultrasound Training by Dr. Marcus Julius
Project Goal: To improve the curriculum by increasing the hands-on ultrasound skills of medical students through simulation and practice with ultrasound training models.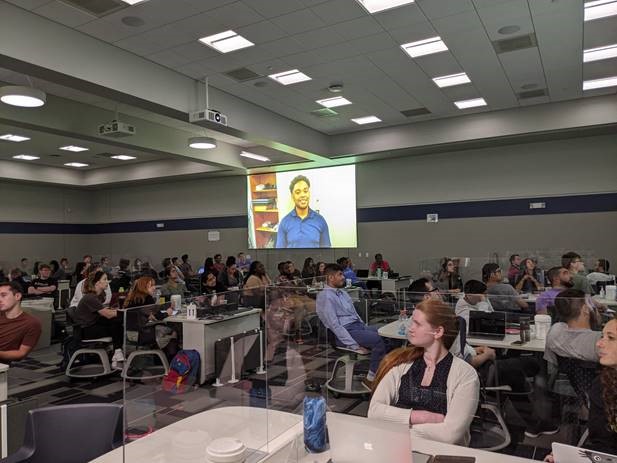 Photo Credit: Live PI Session by Dr. Amy Lee
Bringing Peer Instruction to Life Using Videos
Amy Lee, M.D., M.P.H., M.B.A., and Kris Baughman, Ph.D., Department of Family and Community Medicine
Project Goal: To create a series of videos to complement northeast Ohio case scenarios used as a basis for peer instruction questions in the Population Health course that illustrate and directly apply concepts including social determinants, diagnostic screening, and leadership.
Observed Telemedicine Integrating Clinical Reasoning
 Recipient: Mariquita Belen, M.D., Department of Family and Community Medicine (Pictured Right)
Project Goal: To improve patient-centered interviewing and communication skills, develop data-gathering and clinical reasoning skills, and increase opportunities for active student engagement through telemedicine simulation using standardized patients and immediate feedback by physician faculty.
Social Justice in Medicine Keynote Lectureship
Recipient: L. Austin Fredrickson, M.D., Department of Internal Medicine
Project Goal: To explore issues and current events around the intersection of medicine and social justice and provide a space for student self-reflection and facilitated group discussion of these issues as they relate to professional identity formation and improved patient care.
Pictured Left: Dr. Keisha Ray (Keynote Speaker) by Maricruz Kwon, University of Texas