In an Emergency
Pick up a blue-light emergency phone or call the University Police at 330.325.5911 or 9-1-1 (dial 9-911 if using a campus phone).
If you notice something unusual or something that causes you concern, call 330.325.5911 at any hour.
Non-emergency questions may be directed to NPD at 330.325.5911 or police@neomed.edu.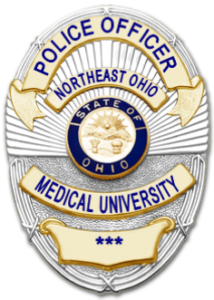 In July of 2015, NEOMED hosted an oath of office ceremony to officially swear in seven new officers into its recently established police department.
The Northeast Ohio Medical University Police Department (NPD) is led by Chief of Police Kali Williams, a lifetime Rootstown resident. Shawn Parker, who serves as Lieutenant, and Michael Bussinger, Allan Jones, Christopher Hartlaub, Terri Moncoveish and Adam Greenwell are the full-time police officers. Patrick Mortier, Trent Alberts, Todd Hough and LeRoy Rowser are the department's part-time officers.
NEOMED has established a mutual aid agreement with the Portage County Sheriff's Office (PCSO) to provide assistance off campus when needed. While NEOMED Officers assist PCSO off campus, PCSO and the Ohio State Highway Patrol are available to assist on campus if needed.
All officers of the department have successfully graduated from a state- approved peace officer training academy, and hold the same authority and powers of arrest as any certified police officer in the State of Ohio. The NPD is the primary investigating agency of all criminal acts and incidents that occur on campus and is recognized as a police department through Section 3345.04 of the Ohio Revised Code.
In an effort to promote a culture of safety and inclusivity, the NPD is charged with being a community-oriented agency that will commit itself to providing the highest level of service, education and protection to the students, employees and visitors of the NEOMED campus. The NEOMED Police Department is supplemented by contracted security officers who staff the front security desk and at times patrol the campus. Emergency calls are dispatched to the NPD through the Portage County Sheriff's Office. Please reach out to us if we can be of assistance, or if you just want to say hi! We are here 24 hours a day, 7 days a week.
Mission
The Northeast Ohio Medical University Police Department is committed to developing and maintaining a safe and peaceful campus environment.
Our officers are sworn to protect constitutional rights, enforce state laws, and provide ethical and equitable police services in support of the University's mission.
Values
In addition to the University's mission and values, the NEOMED Police Department has its own set of values on which our officers base their actions and decisions.
Integrity
Integrity is always doing the right thing.  As police officers, we do what is right not for actual or perceived gain, but because it is the right thing to do. The integrity of our officers is not only represented while we are in uniform, but in all of our actions on and off duty.  Our moral strength and courage is demonstrated in action.
Safety
The protection of life and property is the primary concern for our officers.  The wellbeing of our faculty, staff, students, visitors, our officers and other officers is paramount.  Not only do we focus on keeping the NEOMED community safe, we conduct ourselves in such a way that the public views us as being a source of protection.
Professionalism
We are members of a very noble and honorable profession.  As such, we will maintain the highest of personal standards, taking pride in our conduct, communication, and appearance.  We treat our colleagues and the public with respect in accordance with our mission statement and core values to ensure trust and open communication.
Service
We value the privilege to serve our NEOMED community ethically and equitably.  "Protect and Serve" is not a concept, but rather a calling.  We are dedicated to seeking opportunities to enhance public safety. We work to reduce fear and incidence of crime, and go out of our way to lend a hand to someone in need.
Teamwork
We work together as one organization to adhere to the mission of our department.  As NEOMED police officers, we are respectful to each other and work collectively to solve problems and serve the community.  As a part of the NEOMED community, we work in a partnership with faculty, staff, students, visitors, and other agencies.
NEOMED Police Department
Department of Public Safety