New Grant Helps Continue NEOMED's Training of Community Providers in First Episode Psychosis Care
When an individual faces a first episode of psychosis, the response is critical. A multi-disciplinary team approach taught by trainers at Northeast Ohio Medical University's Best Practices in Schizophrenia Treatment (BeST) Center engages individuals and their supports (family and friends) to intervene early; provide education; and help build skills to manage their symptoms to continue to live their best lives.
A new grant from the Ohio Department of Mental Health and Addiction Services supports the BeST Center's continued work in Coordinated Specialty Care for First Episode Psychosis (also known as CSC for FEP).
While it's a new grant, CSC for FEP is a well-established, evidence-based approach – one that the BeST Center has been helping community providers implement since 2009.
From the map (below), it's possible to see the impact: Colors mark the counties where teams are working with people experiencing a first episode of psychosis. The map also links to the Ohio Department of Mental Health and Addiction Services website and contact information for each of the teams.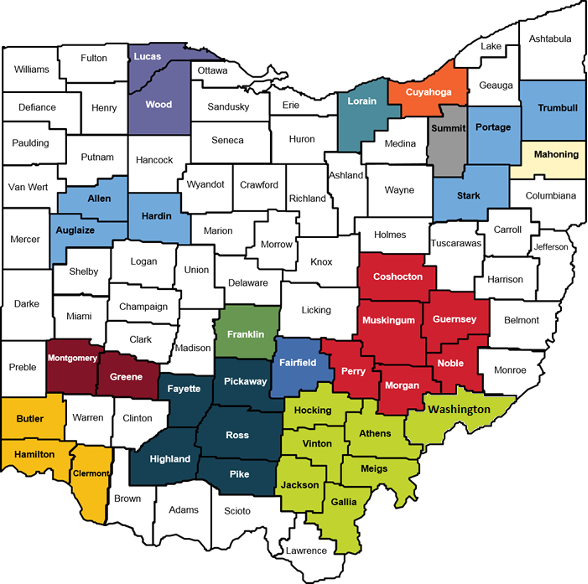 The grant from OhioMHAS flows from the federal level, via Substance Abuse and Mental Health Services Administration (SAMSHA). It supports two parts of the BeST Center's comprehensive approach to supporting translation of evidence-based approaches into real-world settings: First Episode Psychosis ECHO and CSC for FEP Fidelity measure development.
Deb Hrouda, Ph.D., the director of practice implementation and evaluation at the BeST Center and a clinical associate professor of psychiatry at NEOMED, describes the First Episode Psychosis Project ECHO as a tele-community that provides Ohio's Coordinated Specialty Care for First Episode Psychosis team members and other interested clinicians with opportunities to present complex cases and to receive written recommendations from multidisciplinary experts; opportunities to develop the knowledge and skills to manage complex health conditions in their own communities and to be part of a community of practice; brief lectures and case-based learning on topics of special interest; and free, convenient continuing professional education.
Participants meet on Thursdays from noon – 1 p.m. for brief lectures on topics of interest followed by case presentations and discussion. (Registration information available here.)
The FEP ECHO began at the BeST Center in early 2018. It is one of a group of Project ECHO programs at NEOMED.
A new fidelity tool
"This year, we're adding the development of what's called a fidelity tool, to assess Ohio's Coordinated Specialty Care for First Episode Psychosis programming," says Dr. Hrouda. "Fidelity helps us see how close or far a given team's services align with what is known from the research to be effective at helping this target population."
She anticipates using the fidelity assessment results at three levels:
At the individual team level, for continuous quality improvement of services offered to their participants
At the state level, to identify trends in challenges or departures from the model so as to target training and consultation to address more global issues
At the policy level, to help inform policies needed to support best practices for this population
Dr. Hrouda credits the work of her team members,  Crystal N. Dunivant, consultant and trainer for FIRST and co-facilitator for the FEP ECHO, as well as co-Principal Investigator for the grant (photo, left); and Nick Dunlap, consultant and trainer for FIRST and co-facilitator for the FEP ECHO (photo, right).
.