Embarking on a journey of lifelong learning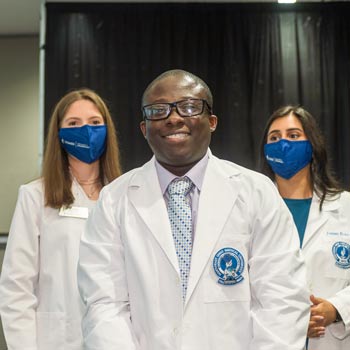 White Coat ceremonies celebrate an important milestone in the lives of first-year medicine and pharmacy students, who begin a new chapter in their journey of lifelong learning. White coats are symbolic of the professionalism that is expected of students during medicine and pharmacy school, and as physicians and pharmacists.
This ceremony reaffirms the community's support of the educational process that prepares future health care professionals for practice. On this day, students pledge their commitment to their professions and to the health of the patients they will serve.
Contributing to the care and healing of others is a privilege and an awesome responsibility. The white coat placed on each future health care professional is more than a familiar lab coat – it is a cloak of competence, communication, caring, curiosity, character and community. This day is celebrated by students, their families, alumni, faculty and staff.
Ceremony Dates and Times
Class of 2027
College of Medicine
Friday, July 21, 2023, 11 a.m.
College of Pharmacy
Friday, Aug. 18, 2023, 3 p.m.
 Master of Medical Science in Anesthesia
Saturday, March 16, 2024, 3:30 p.m.