The White Coat Ceremony is a symbolic program emphasizing the importance of compassionate care for the patients as well as scientific proficiency.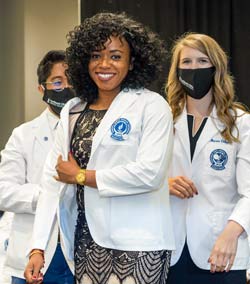 You will put on your white coat for the first time at this ceremony.
2023-24 ceremony dates
College of Medicine, Class of 2027: Friday, July 21, 2023, 11 a.m.
College of Pharmacy, Class of 2027: Friday, Aug. 18, 2023, 3 p.m.
College of Graduate Studies, Anesthesiology Assistants: Saturday, March 16, 2024, 3:30 p.m.
Deadlines to order your coat
You must order your white coat by the deadline below to have one prepared in time for the ceremony.
College of Medicine, June 23, 2023
College of Pharmacy, July 21, 2023
College of Graduate Studies AA students, Feb. 16, 2024
When will you receive your coat?
You will receive your pressed white coat when you check in on the day of your ceremony.
Contact
The NOOK Bookstore
Phone: 330.325.6551