First Master of Medical Science in Anesthesiology Class Celebrated with White Coat Ceremony
The excitement was apparent from the start.
And it built as students and their loved ones gathered outside of the NEW Center Ballroom on Saturday, April 2, ready to don their white coats for their first time – an auspicious step on their journey to becoming Certified Anesthesiologist Assistants.
Nathanial Flath, CAA, program director, welcomed the audience to the White Coat ceremony for the Master of Medical Science in Anesthesiology (MMScA ) program graduates  by sharing his admiration for the inaugural cohort.
"It has been incredible to watch this first class create a culture that will set the foundation of success for this program. They have come together to form one family of future health care providers, each committed to ensuring family, not individual, success," he said.
The event's keynote speaker, Laura Knoblauch, CAA, president of the American Academy of Anesthesiologist Assistants, was a relatable figure for the aspiring anesthesiologists, since she had been a member of the inaugural class of a similar program at Colorado State University. Knoblauch shared inspiring moments from her own journey, while expressing the importance of a Certified Anesthesiologist Assistant to patients.
What Do Certified Anesthesiologist Assistants do?
Certified Anesthesiologist Assistants are trained extensively in the delivery and maintenance of quality anesthesia care as well as advanced patient monitoring techniques. CAAs possess a premedical background and a baccalaureate degree, and they must complete a comprehensive didactic and clinical program at the graduate school level.
According to Salary.com, the average salary for anesthesiologist assistants is $165,686, with the range falling between $135,488 to $205,224.
"You've worked hard for the privilege to work with patients, especially those who are about go under the knife in what may be the scariest moment of their life," Knoblauch said. "You are offering your presence, your compassion, your attention and skill to give them comfort in those few short minutes we interact with patients."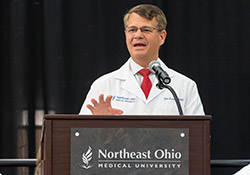 President Langell also addressed the students, telling them that the white coat engenders trust, which will be absolutely crucial as they work with patients undergoing an incredibly stressful event.
Each member of the Class of 2024 then took turns crossing the stage to have their white coats placed on them by faculty members Joshua Jay, CAA, and Amanda Narducci, CAA. After receiving their coats, each student enjoyed their moment in the spotlight. Many struck a pose for the photographer, to the delight of the audience.
Once all the students were proudly attired, they joined together to read the Oath of the Anesthesiology Assistant, which ends with this promise: "I will work to be an exemplary ambassador of the anesthesiologist assistant profession and will always work to strengthen its place in the health care team."