Anesthesiologist Assistant Program
NEOMED can prepare you for a career as an anesthesiologist assistant
The Master of Medical Science in Anesthesia (M.M.Sc.A.) program is designed to provide students with the didactic, clinical, and simulation education required to deliver safe, patient-centered anesthetic care as a Certified Anesthesiologist Assistant (CAA).
CAAs are an integral part of the anesthesia care team, working with physician anesthesiologists to provide the highest quality of care to patients across the country. The anesthesia care team can consist of one physician anesthesiologist and, in Ohio, up to four CAAs. CAAs care for some of the most ill patients during some of their most vulnerable times of need, medically guiding the patient throughout the preoperative, intraoperative, and immediate postoperative periods of their surgeries.
The NEOMED M.M.Sc.A. program uses state of the art, high-fidelity simulation, an innovative didactic curriculum and hands-on clinical experiences to ensure students are equipped to provide a superb anesthesia experience for patients across the country.
The Master of Medical Science in Anesthesia program is accredited by the Commission on Accreditation of Allied Health Education Programs upon the recommendation of the Accreditation Review Committee for the Anesthesiologist Assistant (ARC-AA).
Application Deadline
Early Deadline: June 1
Final Deadline: September 1
Prerequisite Courses
Entry Term
Spring Semester
Delivery
In-Person
Program Length
28 months
Credit Hours
111 credits
Admission Requirements
To be considered for admission, applicants must:
Have earned a Bachelor's degree
Have maintained a cumulative GPA (undergraduate/post-bacc/graduate) of at least a 3.0 (3.5 recommended) and a prerequisite course GPA of at least 3.0 (3.3 recommended)
Have completed prerequisite coursework
Have either an MCAT score greater than 490 or a GRE score of 150 (Verbal), 150 (Quantitative), 4.0 (Analytical). Testing must be completed by August 1 for consideration this cycle.
Have shadowed an anesthesia practitioner for a minimum of 8 hours (or provided an explanation of why shadowing could not be completed this cycle)
Complete the CASAA application for NEOMED
Submit an updated curriculum vita (CV)/resume containing contact information, education, employment, scholarly activities, and licensure (if applicable)
Submit official transcripts from all institutions that you have taken courses at. This includes both undergraduate and graduate courses.
Submit three letters of recommendation
COMPLETE OUR SHADOWING INTEREST FORM
DOWNLOAD SHADOWING HOURS Form
Frequently Asked Questions
What is a certified anesthesiologist assistant (CAA)?
Certified Anesthesiologist Assistants* are highly skilled healthcare professionals that work with physician anesthesiologists as part of the anesthesia care team to provide safe, patient-centered care of patients throughout various types of surgeries. CAAs work exclusively within the anesthesia care team model, as defined by the American Society of Anesthesiologists (ASA). All CAAs possess a premedical background, a baccalaureate degree, and must complete a comprehensive didactic and clinical program at the graduate school level. CAAs are trained extensively in the delivery and maintenance of quality anesthesia care as well as advanced patient monitoring techniques. The goal of CAA education is to guide the transformation of qualified student applicants into competent health care practitioners who aspire to practice in the anesthesia care team.
*Definition adapted from the American Academy of Anesthesiologist Assistants
What is a typical anesthesiologist assistant salary?
According to Salary.com, the average anesthesiologist assistant salary is $168,714, with the range falling between $137,443 and $208,192. Salary information by state can be found at ZipRecruiter.
Additionally, the U.S. Bureau of Labor Statistics predicts that the employment of all physician extenders will grow 31 percent between 2019 and 2029, much faster than the average for all occupations. As the demand for healthcare services grows, physician extenders like Anesthesiologist Assistants will be needed to provide care to patients in a variety of settings.
What is the academic profile of a competitive applicant?
GPA: 3.70
Prerequisite GPA: 3.70
MCAT: 499
GRE Writing: 4.5
GRE Quantitative: 155
GRE Verbal: 155
Where can I find a list of required courses for the program?
Where do certified anesthesiologist assistants (CAAs) work?
Certified Anesthesiologist Assistants* can work in any institution under a physician anesthesiologist in the anesthesia care team. The states CAAs practice is a dynamic and evolving situation, as multiple states are actively pursuing legislation to allow CAAs to practice in their states. CAAs can currently practice in 18 states and Guam, with Kansas passing legislation for practice in 2021.
*Definition adapted from the American Academy of Anesthesiologist Assistants
What is the cost of the program?
Detailed cost tuition and fee information for the Anesthesiologist Assistant program can be found in the University Fee Register.
NEWS

Certified Anesthesiologist Assistant Program Earns Accreditation
"We're excited that current and future students can rest assured that NEOMED is committed to them as students, to the program and to the profession," said program director Nathaniel Flath, CAA.
NEWS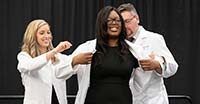 NEOMED's First Master of Medical Science in Anesthesiology Class Celebrated With White Coat Ceremony
"It has been incredible to watch this first class create a culture that will set the foundation of success for this program," said Nathanial Flath, CAA, program director, during the ceremony. "They have come together to form one family of future health care providers, each committed to ensuring family, not individual, success."