CREATING TRANSFORMATIONAL LEADERS
Match Day 2023
College of Medicine celebrates 100% match rate for Class of 2023
All fourth-year medicine students who pursued residency were placed.

A sign near the entrance of NEOMED's College of Medicine Class of 2023 Match Day celebration had an important message for guests: LUCK HAS NOTHING TO DO WITH IT.
As National Residency Match Day fell on March 17 this year, the NEW Center Ballroom was adorned with plenty of green St. Patrick's Day decorations. However, that one sign made it clear that the students' match results had nothing to do with luck – rather, it was from years of hard work and dedication to train to become physicians who will go on to be transformative leaders in the health professions.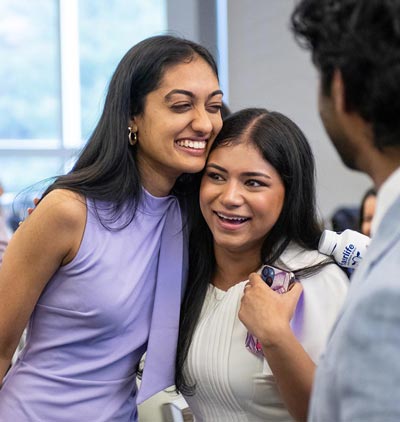 The anticipation was high in the Ballroom as fourth-year students and their guests anxiously waited to learn their residency match results. Once the clock struck noon, students rushed to find and open their envelopes holding one of the most important pieces of news they will receive in their careers – the location of their residency where they will spend the next four-to-seven years.
Small, impromptu celebrations began breaking out throughout the second floor of the NEW Center as fourth-year students – who are set to graduate from NEOMED on May 6 – opened their envelopes and shared with their family, friends and loved ones. There were hugs, tears of joy, elated shrieks and a bevy of emotions as what started as small individual celebrations eventually erupted into a cacophony of joyful sounds as the nearly 1,000 guests celebrated a huge milestone for each student.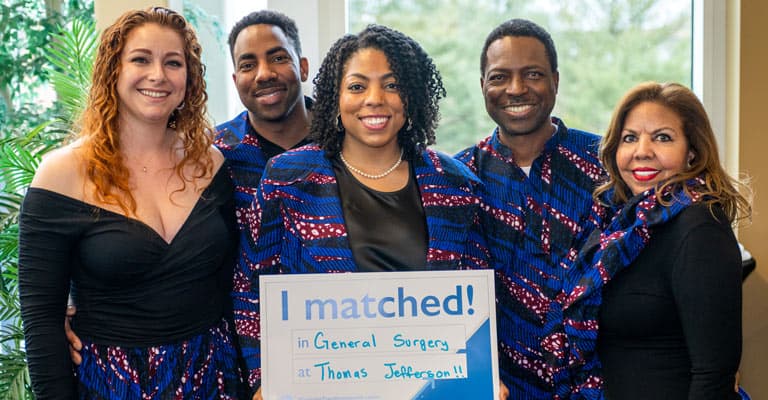 Students then took turns publicly sharing their news for the first time from the ballroom stage. Each was met with a loud ovation from their fellow classmates and the guests in the crowd. Some announced their plans to serve residencies in our local communities, heading to Ohio institutions such as the Cleveland Clinic, University Hospitals, Summa Health and the Ohio State University Medical Center. Others announced they would be leaving Northeast Ohio (at least for now) for new opportunities at some of the nation's top health care institutions, including:
Yale-New Haven Hospital,
Boston Children's Hospital,
MedStar National Rehabilitation Hospital,
Vanderbilt University Medical Center,
Massachusetts General Hospital and many others in about every corner of the U.S.
Overall, 141 fourth-year students matched with residencies throughout the U.S. and three fourth-year students opted to pursue a postgraduate research year – for a 100% match rate of all students who completed the match and supplemental offer process.
Where They placed
Last Name
First Name
Institution Name
Specialty
City
State
Abboud
Bisan
UPMC Medical Education-PA
Emergency Medicine
PITTSBURGH
PA
Abboud
Brian
St Louis Univ SOM-MO
Internal Medicine
ST LOUIS
MO
Aguilar
Aviva
Akron Gen Med Ctr/NEOMED-OH
Family Medicine
AKRON
OH
Aiken
Amy
Ohio State University
Family Medicine
COLUMBUS
OH
Aikhionbare
Itohan
Thomas Jefferson Univ Hospital
General Surgery
PHILADELPHIA
PA
Aitharaju
Varun
Cleveland Clinic Fdn-OH
Internal Medicine
CLEVELAND
OH
Alamir
Peter
Univ Hosps Community Consortium-OH
Internal Medicine/Parma
PARMA
OH
Arif
Ali
Nazareth Hospital-PA
Transitional
PHILADELPHIA
PA
Nazareth Hospital-PA
Ophthalmology
PHILADELPHIA
PA
Ashraf
Amani
St Louis Univ SOM-MO
Pediatrics
ST LOUIS
MO
Audi
Ashley
Cleveland Clinic Fdn-OH
Neurology
CLEVELAND
OH
Azizi
Shayan
Family Health Ctrs at NYU Langone-NY
Medicine-Primary
BROOKLYN
NY
Baaklini
Carla
University of Missouri
Ophthalmology
COLUMBIA
MO
Barat
Oren
Allegheny Health Network Medical Education
Urology
PITTSBURGH
PA
Bell
Sophie
U Tennessee Health Sci Ctr-Memphis
Family Med/St Francis
MEMPHIS
TN
Bolok
Youstina
Case Western/Univ Hosps Cleveland Med Ctr-OH
Anesthesiology
CLEVELAND
OH
Boppana
Sushmitha
Akron Gen Med Ctr/NEOMED-OH
Internal Medicine
AKRON
OH
Bosompim
Yaa
Yale-New Haven Hosp-CT
Medicine-Primary
NEW HAVEN
CT
Brooks
Alexandra
Childrens Hospital-Boston-MA
Child Neurology
BOSTON
MA
Brunetti
Alessandro
Hosp of the Univ of PA
Pathology-AP/CP
PHILADELPHIA
PA
Bucci
Dominic
St. Elizabeth's Med Ctr-MA
Surgery-Preliminary
BOSTON
MA
Burky
Garrison
Summa Health/NEOMED-OH
Psychiatry
AKRON
OH
Castro
Frank
St Elizabeth Health Ctr-Boardman-OH
Family Medicine
BOARDMAN
OH
Chahine
Richard
Case Western/Univ Hosps Cleveland Med Ctr-OH
Internal Medicine
CLEVELAND
OH
Chang
Jessica
U Southern California
Emergency Medicine
LOS ANGELES
CA
Cohn
Emilie
The MetroHealth Sys/Case Western-OH
Medicine-Preliminary
CLEVELAND
OH
The MetroHealth Sys/Case Western-OH
Anesthesiology
CLEVELAND
OH
Coovert
Joshua
The MetroHealth Sys/Case Western-OH
Emergency Medicine
CLEVELAND
OH
Cox
Dominique
Summa Health/NEOMED-OH
Psychiatry
AKRON
OH
Dalal
Prapti
Nationwide Childrens Hosp-OH
Pediatrics
COLUMBUS
OH
Dergham
Nizar
Univ Hosps Community Consortium-OH
Internal Medicine/Regionals
CHARDON
OH
Devineni
Sritej
Ohio State University Med Ctr
Internal Medicine
COLUMBUS
OH
Dibor
Adannekwu
The MetroHealth Sys/Case Western-OH
Psychiatry
CLEVELAND HTS.
OH
Drlik
Hayley
The MetroHealth Sys/Case Western-OH
Emergency Medicine
CLEVELAND
OH
Edwards
Brittany
UHS So California Med Ed Consortium
General Surgery
WILDOMAR
CA
Eley
Sarah
Summa Health/NEOMED-OH
Transitional
AKRON
OH
University Hosps-Jackson-MS
Dermatology
JACKSON
MS
El-Hayek
Taya
Cleveland Clinic Fdn-OH
Anesthesiology
CLEVELAND
OH
Fattah
Ibrahim
UC Davis Med Ctr-CA
Emergency Medicine
SACRAMENTO
CA
Franson
Levi
John Peter Smith Hosp-TX
Emergency Medicine
FORT WORTH
TX
Galloway
Forest
Summa Health/NEOMED-OH
Family Medicine
AKRON
OH
Ganesh
Saimanthra
U Florida COM-Shands Hosp
Emergency Medicine
GAINESVILLE
FL
Glaser
Alexandra
LSU SOM-New Orleans-LA
Pediatrics
NEW ORLEANS
LA
Goel
Nupur
Massachusetts Gen Hosp
Med-Prelim/Neurology
BOSTON
MA
Brigham & Womens Hosp-MA
Neurology/BWH-MGH
BOSTON
MA
Gundavarpu
Sneha
MedStar National Rehab Hosp-DC
Phys Medicine & Rehab
WASHINGTON
DC
Gupta
Megha
U Illinois COM-Chicago
Plastic Surgery (Integrated)
CHICAGO
IL
Gurumurthy
Shreya
Aultman Hospital/NEOMED-OH
Obstetrics-Gynecology
CANTON
OH
Han
Justin
Full Circle Health-ID
Family Medicine/Boise
BOISE
ID
Harlan
Laura
Good Samaritan Hosp-Cinn-OH
Ob-Gyn/GSH Bethesda
CINCINNATI
OH
Harris
Joel
U Tennessee Health Sci Ctr-Memphis
Pediatrics
MEMPHIS
TN
Hong
Gordon
Case Western/Univ Hosps Cleveland Med Ctr-OH
Internal Medicine
CLEVELAND
OH
Houston
Ashley
Akron Gen Med Ctr/NEOMED-OH
Family Medicine
AKRON
OH
Huang
Jason
U Cincinnati Med Ctr-OH
Internal Medicine
CINCINNATI
OH
Hussain
Hafsa
U Louisville SOM-KY
Medicine-Preliminary
LOUISVILLE
KY
U Kentucky Med Ctr
Radiology-Diagnostic
LEXINGTON
KY
Islam
Muhammad
Univ Hosps Community Consortium-OH
Emergency Medicine/SJMC
WESTLAKE
OH
Jabir
Abdur Rahman
Wake Forest Baptist Med Ctr-NC
Internal Medicine
WINSTON-SALEM
NC
Jickess
Justin
Trinity Health Ann Arbor Hosp-MI
General Surgery
YPSILANTI
MI
Jin
Richard
Summa Health/NEOMED-OH
Internal Medicine
AKRON
OH
Jinka
Sanjay
Case Western/Univ Hosps Cleveland Med Ctr-OH
Surgery-Preliminary
CLEVELAND
OH
Johnson
Kelsey
Childrens Hospital-NEOMED-OH
Pediatrics
AKRON
OH
Kadatane
Saurav
U Oklahoma COM-OK City
Medicine-Pediatrics
OKLAHOMA CITY
OK
Kandi
Sneha
Case Western/Univ Hosps Cleveland Med Ctr-OH
Internal Medicine
CLEVELAND
OH
Kemme
Andrew
The MetroHealth Sys/Case Western-OH
Anesthesiology
CLEVELAND
OH
Khaliq
Isna
Rush University Med Ctr-IL
Internal Medicine
CHICAGO
IL
Khattab
Ala'a
Henry Ford Hospital-MI
Emergency Medicine
DETROIT
MI
Kiko
Isabel
Summa Health/NEOMED-OH
General Surgery
AKRON
OH
Kimball
Kelly
OhioHealth-Riverside Methodist
Dermatology
COLUMBUS
OH
Kshatri
Sonia
Med Coll Wisconsin Affil Hosps
Internal Medicine
MILWAUKEE
WI
Kubina
Matthew
U Michigan Hosps-Ann Arbor
Internal Medicine
ANN ARBOR
MI
Kurth
Emily
Pine Rest Christian Mental Hlth Svcs-MI
Psychiatry/Rural
GRAND RAPIDS
MI
Langlois
Thomas
Hennepin Co Med Ctr-MN
Emergency Medicine
MINNEAPOLIS
MN
Leahy
Charles
U Rochester/Strong Memorial-NY
Internal Medicine
ROCHESTER
NY
Lee
Evelyn
UC Irvine Med Ctr-CA
Psychiatry
ORANGE
CA
Lele
Prachi
Wright State Univ Boonshoft SOM-OH
Ortho Surgery/Research
DAYTON
OH
Leone
Giovanna
Akron General Medical Center
Urology
AKRON
OH
Lin
Michelle
Ascension St Joseph-IL
Family Medicine
CHICAGO
IL
Livingston
Evan
Mount Carmel Health System-OH
General Surgery
GROVE CITY
OH
Lowden
Brett
Marshall University SOM-WV
Orthopaedic Surgery
HUNTINGTON
WV
Ma
Nicole
Zucker SOM-Northwell Mather Hosp-NY
Transitional
PORT JEFFERSON
NY
Jacobi Med Ctr/Einstein-NY
Radiology-Diagnostic
BRONX
NY
Mangus
Kaitlyn
Case Western/Univ Hosps Cleveland Med Ctr-OH
Surgery-Preliminary
CLEVELAND
OH
Markle
Jonathan
Cleveland Clinic Cole Eye Institute
Research – Ophthalmology
CLEVELAND
OH
Matsushita
Andrew
Dignity Methodist Hosp-Sacramento-CA
Family Medicine
SACRAMENTO
CA
Mawby
Isabelle
Vanderbilt Univ Med Ctr-TN
Child Neurology
NASHVILLE
TN
McCollum
Leah
Summa Health/NEOMED-OH
Family Medicine
AKRON
OH
McGuire
Tanner
U Washington Boise-ID
Internal Medicine
BOISE
ID
Menassa
Natalie
Zucker SOM-Northwell Cohen Childrens-NY
Pediatrics
NEW HYDE PARK
NY
Mershon
Derrick
Marshall University SOM-WV
Internal Medicine
HUNTINGTON
WV
Meyer
Kyle
Cleveland Clinic Fdn-OH
Anesthesiology
CLEVELAND
OH
Mirhaidari
Gabriel
Ohio State University Med Ctr
Plastic Surgery (Integrated)
COLUMBUS
OH
Mishal
Sondos
Wright State Univ Boonshoft SOM-OH
Psychiatry
FAIRBORN
OH
Mistry
Maahi
Summa Health/NEOMED-OH
Medicine-Preliminary
AKRON
OH
The MetroHealth Sys/Case Western-OH
Anesthesiology
CLEVELAND
OH
Mo
Kevin
Ohio State University Med Ctr
Anest/Clinical Base Year
COLUMBUS
OH
Mohan
Puja
Charleston Area Med Ctr-WV
Psychiatry
CHARLESTON
WV
Monteleone
Kristina
The MetroHealth Sys/Case Western-OH
Surgery-Preliminary
CLEVELAND
OH
Muntaser
Adam
Detroit Med Ctr/WSU-MI
Emergency Medicine
DETROIT
MI
Najeed
Ayesha
U Illinois COM-Chicago
Emergency Medicine
CHICAGO
IL
Natarajan
Jay
U South Florida Morsani COM-Tampa
Vascular Surgery
TAMPA
FL
Nicholson
Adrianna
Childrens Hospital-NEOMED-OH
Pediatrics
AKRON
OH
Nied
Matthew
Case Western/Univ Hosps Cleveland Med Ctr-OH
Internal Medicine
CLEVELAND
OH
Olah
Elizabeth
U Rochester/Strong Memorial-NY
Pediatrics
ROCHESTER
NY
Orefice
Paul
Summa Health/NEOMED-OH
Emergency Medicine
AKRON
OH
Orfanian Azimzadeh Khosravi
Negin
Akron Gen Med Ctr/NEOMED-OH
Emergency Medicine
AKRON
OH
Otchere
Phoebe
Boston University
General Surgery
BOSTON
MA
Pandey
Jamie
UPMC Medical Education-PA
Psych-Fam Med/McKeesport
PITTSBURGH
PA
Pandya
Kishan
Summa Health/NEOMED-OH
Transitional
AKRON
OH
Pastel
Daniel
Akron Gen Med Ctr/NEOMED-OH
Medicine-Preliminary
Akron
OH
Patel
Karishma
UPMC Medical Education-PA
Emergency Medicine
PITTSBURGH
PA
Piks
Joseph
Case Western/Univ Hosps Cleveland Med Ctr-OH
Psychiatry
CLEVELAND
OH
Rader
Sarah
Montefiore Med Ctr/Einstein-NY
Pediatrics
Bronx
NY
Reddy
Shilpa
Wright State Univ Boonshoft SOM-OH
Obstetrics-Gynecology
DAYTON
OH
Rehman
Sahar
U Arizona COM-Phoenix
Obstetrics-Gynecology
PHOENIX
AZ
Reidenbach
Lance
UPMC Medical Education-PA
Psychiatry/General
PITTSBURGH
PA
Rodriguez
Katherine
Medical University of SC
Emergency Medicine
CHARLESTON
SC
Russ
Matthew
OhioHealth-Riverside Methodist
Surgery-Preliminary
COLUMBUS
OH
Sasse
Jonathan
Akron Gen Med Ctr/NEOMED-OH
Psychiatry
AKRON
OH
Satoskar
Monika
Ohio State University Med Ctr
Internal Medicine
COLUMBUS
OH
Satoskar
Sanika
Johns Hopkins Hosp-MD
Pathology-AP/CP or AP Only
BALTIMORE
MD
Schirf
Jerika
Summa Health/NEOMED-OH
Obstetrics-Gynecology
AKRON
OH
Scott
Thomas
Northwestern McGaw/NMH/VA-IL
Emergency Medicine
CHICAGO
IL
Seif
Christian
The MetroHealth Sys/Case Western-OH
Anesthesiology
CLEVELAND
OH
Selvakumar
Koshala
Western Reserve Health Ed/NEOMED-OH
General Surgery
WARREN
OH
Shah
Jay
Medical University of SC
Family Medicine
CHARLESTON
SC
Shah
Manan
Summa Health/NEOMED-OH
Internal Medicine
AKRON
OH
Shah
Payas
Tower Health/Reading Hospital-PA
Psychiatry
WEST READING
PA
Shajihan
Ain
Inova Fairfax Hospital-VA
Internal Medicine
FALLS CHURCH
VA
Singh
Anamika
Penn State Hershey Med Ctr-PA
Pathology
HERSHEY
PA
Singh
Harguneet
The MetroHealth Sys/Case Western-OH
Internal Medicine
CLEVELAND
OH
Sobnosky
Mark
Albert Einstein Med Ctr-PA
Emergency Medicine
PHILADELPHIA
PA
Spivey
Devin
U Rochester/Strong Memorial-NY
Emergency Medicine
ROCHESTER
NY
Sundaram
Krithika
UPMC Medical Education-PA
Pediatrics
PITTSBURGH
PA
Syed
Ali
Case Western/Univ Hosps Cleveland Med Ctr-OH
Med-Prelim/Ophthalmology
CLEVELAND
OH
Case Western/Univ Hosps Cleveland Med Ctr-OH
Ophthalmology
CLEVELAND
OH
Tang
Alex
Summa Health/NEOMED-OH
Internal Medicine
AKRON
OH
Tawde
Ananya
Case Western/Univ Hosps Cleveland Med Ctr-OH
Surgery-Preliminary
CLEVELAND
OH
Teeling
Derek
Allegheny Gen Hosp-PA
Orthopaedic Surgery
PITTSBURGH
PA
Thomas
Nicholas
UPMC Hamot Med Ctr-PA
Orthopaedic Surgery
ERIE
PA
Tsonis
Theodore
LewisGale Med Ctr-VA
Psychiatry
SALEM
VA
Vaghasia
Zeel
Cleveland Clinic Fdn-OH
Psychiatry
CLEVELAND
OH
Villers
Caitlin
Penn State Hershey Med Ctr-PA
Pediatrics
HERSHEY
PA
Vora
Paayal
Univ Hosps Community Consortium-OH
Transitional
CHARDON
OH
Weber
Theodore
Charleston Area Medical Center
Urology
CHARLESTON
WV
Wilson
Keira
UHS So California Med Ed Consortium
Emergency Medicine
TEMECULA
CA
Wilson
Mackenzie
Maimonides Med Ctr-NY
Emergency Medicine
BROOKLYN
NY
Wise
Dakota
North Country HealthCare-AZ
Family Medicine
FLAGSTAFF
AZ
Yaacoub
Rita Marie
Akron Gen Med Ctr/NEOMED-OH
Internal Medicine
AKRON
OH
Yovichin
Curtis
Summa Health/NEOMED-OH
Internal Medicine
AKRON
OH
Statistics
| Primary Care | # students | % of Class (n=141)* |
| --- | --- | --- |
| Family Medicine | 12 | 8.5 |
| Internal Medicine | 28 | 19.9 |
| Internal Medicine/Pediatrics | 1 | 0.7 |
| Medicine-Preliminary | 1 | 0.7 |
| Obstetrics and Gynecology | 5 | 3.5 |
| Pediatrics | 11 | 7.8 |
| Psychiatry/Family Medicine | 1 | 0.7 |
| Total Primary Care | 59 | 41.8 |
| Surgery and Surgical Subspecialties | # students | % of Class (n=141)* |
| Ophthalmology | 3 | 2.1 |
| Orthopaedic Surgery | 4 | 2.8 |
| Plastic Surgery (Integrated) | 2 | 1.4 |
| Surgery-General | 7 | 5.0 |
| Surgery-Preliminary | 6 | 4.3 |
| Urology | 3 | 2.1 |
| Vascular Surgery | 1 | 0.7 |
| Total Surgery and Surgical Subspecialties | 26 | 18.4 |
| Other Specialties | # students | % of Class (n=141)* |
| Anesthesiology | 8 | 5.7 |
| Child Neurology | 2 | 1.4 |
| Dermatology | 2 | 1.4 |
| Emergency Medicine | 20 | 14.2 |
| Emergency Medicine/SJMC | 1 | 0.7 |
| Neurology | 2 | 1.4 |
| Pathology-Anatomic and Clinical | 3 | 2.1 |
| Physical Medicine and Rehabilitation | 1 | 0.7 |
| Psychiatry | 13 | 9.2 |
| Radiology-Diagnostic | 2 | 1.4 |
| Transitional Year | 2 | 1.4 |
| Total Other Specialties | 56 | 39.7 |
| * Numbers are based on final placements | | |
| Affiliates/Ohio – including transitional, preliminary and categorical pgms | # of positions | % of positions (n=149) |
| At affiliated institution | 54 | 36.2% |
| Residency located in Ohio | 71 | 47.7% |
Gallery