Named the 2020 Free Clinic of the Year by the Charitable Healthcare Network.
 See how to make an appointment, clinic hours and clinic services
Mission
The Student-Run Free Clinic's mission is to build and sustain healthy communities in Northeast Ohio, centered in Portage County by utilizing the medical knowledge and cultural competency of NEOMED medical and pharmacy students. Our vision is that all Northeast Ohio residents will have access to quality health care through our clinic and community classes.
What We Do
The Student-Run Free Clinic provides high quality, non-emergent, no-cost healthcare to the medically underserved residents of Northeast Ohio. We offer primary care services, chronic disease management, regular routine care, basic labs, medication prescriptions, and therapy management.
Who We Are
The Student-Run Free Clinic was started by medical and pharmacy students in 2016. Currently, it is run by current students attending NEOMED with overall advising from the board.
Statistics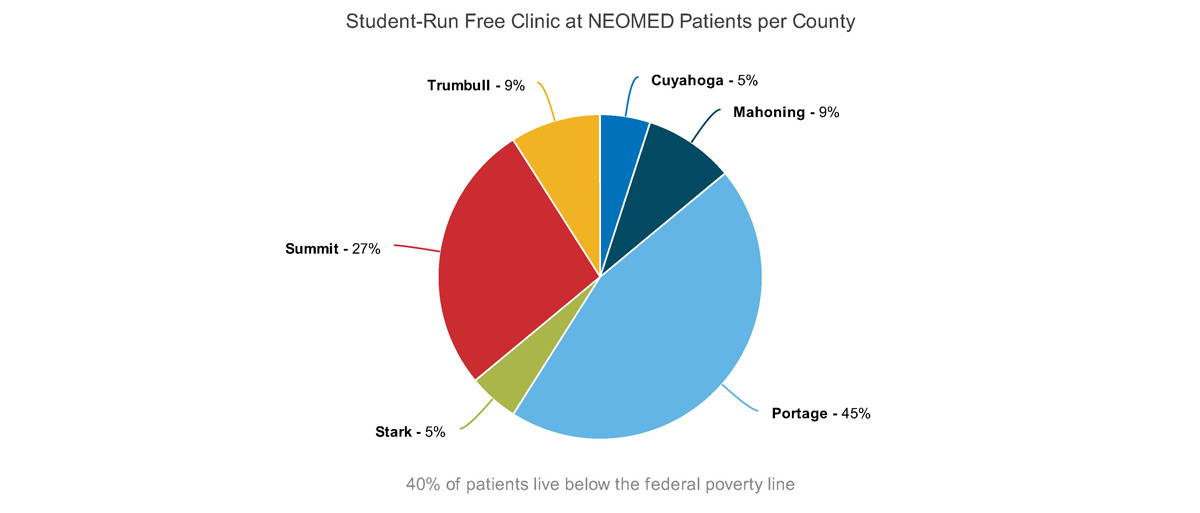 Download these statistics as a PDF.
Contact
Phone Number: 330.552.7080
Email: clinic@outreachneo.org
Address: 4209 St. Rt. 44 Rootstown, Ohio 44272