Dear NEOMED Community:
On Monday, Jan. 16, 2023, our Nation celebrates Martin Luther King Jr. Day.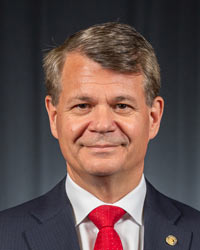 In 1994, Congress designated the Martin Luther King Jr. federal holiday as a National Day of Service. MLK Day calls for Americans from all walks of life to work together to provide solutions to our most pressing national problems.
Diversity, collaboration and service — embedded in NEOMED's mission — are three of the ways we remain focused in our work, honoring this call and the legacy of Dr. King.
Volunteering in recognition of the National Martin Luther King Jr. Day of Service has become a cherished tradition for the NEOMED community. Each year, we focus on one or more service initiatives for which the University's faculty, staff and students can stand together. For the 2023 Day of Service, we are participating in a hygiene drive for the Rural Relief Mobile Food Pantry. Focusing on addressing insecurities in underserved communities in rural Portage County, Rural Relief provides local schoolteachers with boxes of hygiene packs to discretely distribute to kids in need.
I am proud of all that our NEOMED Community does. While we often highlight what we do —­ create transformational leaders — and why we do it — to improve health — we don't always talk about how it all happens.
With the leadership, support and hard work of our staff and faculty, NEOMED educates future health professionals and collaborates with dozens of hospitals, pharmacies and others to advance health care and equity.
We also have nearly 3,000 clinical faculty and pharmacy preceptors who not only serve patients but who also train our students at their sites to ensure our communities will have access to caring and highly-trained health professionals of the future.
And because of all, our eye remains on the prize for diversity, equity and inclusion.
During our last academic year, our students were fully engaged as volunteers. Among our 111 student organizations, students hosted 67 service projects and reported more than 860 community service hours.
As providers of care, we recognize that availability of service doesn't mean that everyone has access to it. So, the Student-Run Free Clinic at NEOMED provides no cost and low-cost care to patients. Last year alone, the free clinic's student volunteers logged 1,518 hours, which combined with more than 1,500 volunteer hours by health professionals.
Indeed, we do all we can to serve those in need, particularly, the medically underserved.
Access to health care is a global problem, so, we not only have to only serve in the U.S., but we also have to serve globally — to learn to provide better care for our diverse local communities. Of course, the physical presence of hospitals in our local communities doesn't mean that health care is accessible to all, and we must remember what Dr. King said in his 1964 Nobel Lecture titled, The quest for peace and justice, "demand for dignity, equality, jobs and citizenship will not be abandoned or diluted or postponed." While the context may have been different, many of these same concerns of six decades ago still exist. Such demands are also social determinants of health that have an influence on health inequities.
So, thank you all for your service and commitment to addressing our nation's most pressing health problems. I am excited for what this year holds for us. As I look at our services at NEOMED Health Care and the Student-Run Free Clinic; and as we launch our new programs like Global Health and Innovation, and our future Bitonte College of Dentistry to meet Ohio's dire need for dentists, I know we walk and work together with many who aim to one day, fully experience Dr. King's dream.
Sincerely,
John. T. Langell
President
---