The Department of Pediatrics is part of NEOMED's Division of Clinical Sciences. The department faculty is made up practicing health care professionals from NEOMED-affiliated hospitals throughout Northeast Ohio who volunteer their time to train University students in clinical settings. These volunteer faculty members model the University's core values in their daily practice, and their teaching and mentoring of medical students.
Department chair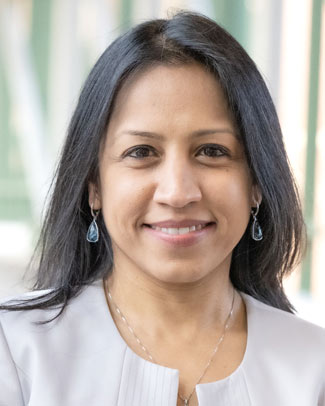 Shefali Mahesh, M.D., M.B.A., is the Dr. Noah Miller Chair in Pediatrics at Akron Children's Hospital as well as clinical associate professor and chair of the Department of Pediatrics in the NEOMED College of Medicine.
During her tenure at Akron Children's Hospital, Dr. Mahesh has served as director of pediatric nephrology and dialysis, director of medical subspecialties and is the president of the hospital's medical staff. She is also the chair of the board for the newly formed accountable care organization, Akron Children's Health Collaborative.
Discussing her 2022 appointment, Dr. Mahesh said she looks forward to developing a robust collaboration between the hospital and NEOMED.
"The collaboration is mutually beneficial," she said. "We aspire to have a stronger clinical, educational and research presence of the pediatrics faculty at NEOMED and provide an immersive experience for medical students at earlier stages of their education, when many are deciding upon their specialty and career path. I am eager to get started."
"Dr. Mahesh is an accomplished clinician and has become a visionary leader at Akron Children's Hospital. Her passion for student education and faculty engagement makes her an excellent choice for NEOMED's next chair of pediatrics," said Eugene M. Mowad, M.D., FAAP, interim dean of the College of Medicine. "I look forward to our continued collaboration to optimize the clinical experience of our students, to further cultivate opportunities for our pediatric faculty and to improve health care for children in our region."