Journal of Medical Sciences

at NEOMED
ABOUT THE JOURNAL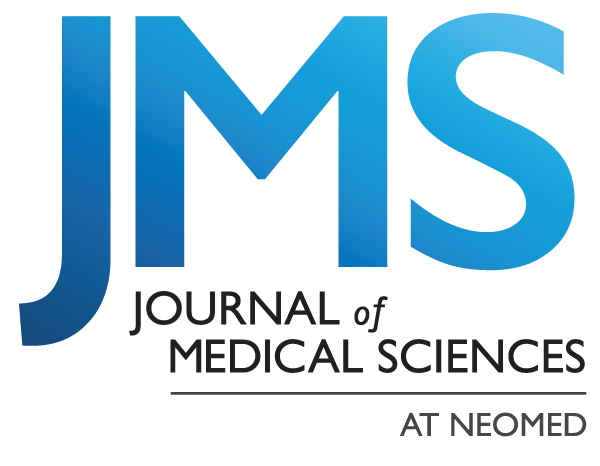 The Journal of Medical Sciences at NEOMED was created to foster the research and ideas of University students, faculty members, consortium hospital trainees, and affiliates and to provide them with the tools and platform to publish their works in a student-led medical journal. Feedback will be given on each submission with the goal of publication.
The journal was founded in 2020 by Trinity Samson, rising M3 completing a one-year Orthopaedic Research Fellowship, and Dr. Fayez Safadi, faculty member in the Department of Anatomy and Neurobiology. The journal published its first edition in fall 2021.
Read the Journal of Medical Sciences at NEOMED.
2021-22 Executive Board Members
From left, Trinity Samson (COM), Dr. Fayez Safadi and Gabriel Mirhaidari (COM).
President/Editor-in-Chief:
Trinity Samson (COM)
Faculty Advisor:
Dr. Fayez Safadi
Vice Presidents:                                                          
Gabriel Mirhaidari (COM)
Alexandra Brooks (COM)
Pratyusha Ghanta (COGS)
Editors:
Laila Almassri (COGS)
Katie Bretland (COGS)
Meghana Chanamolu (COM)
Michael Dubé (COM)
Gabrielle Frame (COGS)
Sanjay Jinka (COM)
Kelsey Johnson (COM)
Elizabeth Olah (COM)
Christiana Salami (COM)
Kristen Septaric (COM)
Ain Shajihan (COM)
Ernesto Solorzano (COGS)
Krithika Sundaram (COM)
Peer Reviewers:
Andrew Alejo (COM)
Dominique Cox (COM)
Max Gilliland (COM)
Alexander Hyde (COM)
Yusuf Khalil (COM)
Gabrielle Robinson (COGS)
Geoffrey Sarpong (COP)
Secretaries:
Max Gilliland (COM)
Gwendolyn Richner (COGS)
Production Team Members:
Anjali Agarwal (COM)
Meghana Chanamolu (COM)
Dominique Cox (COM)
Max Gilliland (COM)
Gwendolyn Richner (COGS)
Geoffrey Sarpong (COP)
Manuscript Writing Workshop Coordinators:
Geoffrey Sarpong (COP)
Krithika Sundaram (COM)
2020-21 Faculty Reviewers and Compliance Board Members
Compliance Board Members:
Hope Ball, Ph.D. (NEOMED)
Stanley Dannemiller, D.M.V (NEOMED)
Yoleetah Ilodi, M.D. (NEOMED)
Steven Kuerbitz, M.D. (ACH)
Ashley Mohrman, Ph.D. (ACH)
Faculty and Affiliate Reviewers:                                           
Khaled Adjerid, Ph.D. (NEOMED)
Brooke Babyak, M.D. (SUMMA)
Marquita Belen, M.D. (NEOMED)
John Boltri, M.D. (NEOMED)
Rachel Bracken, Ph.D. (NEOMED)
David Drevna, M.D. (Mercy Health)
Stacey Gardner-Buckshaw, Ph.D., MPA (NEOMED)
Yoleetah Ilodi, M.D. (NEOMED)
Paul Lecat, M.D. (NEOMED)
Andrew McElroy, M.D. (Wayne State University)
Joseph McShannic, M.D. (SUMMA)
Neel Parekh, MD (Cleveland Clinic Foundation)
Priya Raman, Ph.D. (NEOMED)
Fayez Safadi, Ph.D. (NEOMED)
Mate Soric, Pharm.D., BCPS, FCCP (NEOMED)
Yong Lu, Ph.D. (NEOMED)
Special thanks to:
John Langell, M.D., Ph.D., M.P.H., M.B.A.
Steven Schmidt, Ph.D.
Julie Aultman, Ph.D.
Lacey Madison, M.B.A., M.Ed
Maria Schngram
Jared Slanina