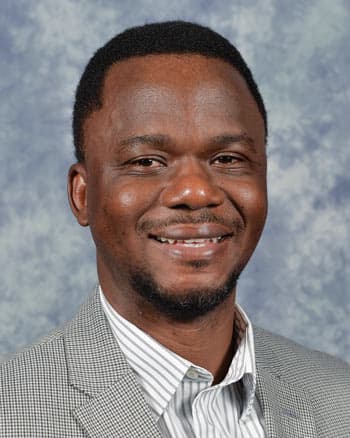 Academic Title(s)
Course Director for Pharmaceutics and Advanced Pharmaceutical Compounding courses
Administrative Title(s)
Chair and Associate Professor, Department of Pharmaceutical Sciences
Bio
Dr. Moses Oyewumi is a pharmaceutical scientist/faculty member in our College of Pharmacy.
Dr. Oyewumi earned his Ph.D. from the University of Kentucky, and he completed post-doctoral training at the University of Kentucky and at the University of Iowa.
Prior to the current position, Dr. Oyewumi was a Formulation Scientist, Pharmaceutics R&D and later became the Formulation team leader in the pharmaceutical company.
He is a recipient of many academic and industrial innovation awards including Elsevier's Top Ten Most Cited Paper and Technical Excellence Award.
He received the prestigious 2015-16 NEOMED Faculty award. Dr. Oyewumi has authored/co-authored over 90 peer-reviewed publications, abstracts/presentations, and 10 industrial technical papers as well as five patents/patents pending in the area of nanotherapeutics, bioengineering, formulation development, targeted drug delivery, and nanotechnology.
Area of Expertise/Research Interests
Advanced drug delivery systems for regenerative therapies
Fabrication and assessment of novel drug delivery systems
Biocompatibility/toxicological assessment of nanotherapeutics
Bioengineering and application of innovative drug delivery platforms for cancer therapy
Education
Ph.D., Pharmaceutical Sciences, University of Kentucky, College of Pharmacy, 2003.