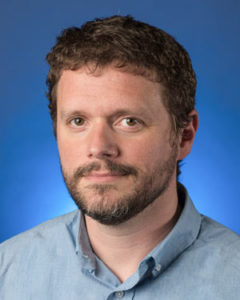 Contact
Phone: 330.325.6886
Email: agoodwill@neomed.edu
Office
Room: RGE-343
Twitter
@Goodwill_AG
LinkedIn
Adam Goodwill – LinkedIn
Publications
Google Scholar
Title
Assistant Professor, Department of Integrative Medical Sciences
Course Director for the Cardiovascular, Pulmonary & Renal (CPR)
Educational Background
Ph.D., Physiology and Pharmacology, West Virginia University, 2011
B.S., Molecular Biology/Biotechnology, Clarion University of Pennsylvania, 2003
B.S., Biology, Clarion University of Pennsylvania, 2003
Biography
After receiving my Ph.D. from West Virginia University School of Medicine in the Laboratory of Jefferson Frisbee, Ph.D., I accepted a post-doctoral position at the Indiana University School of Medicine in the Laboratory of Johnathan Tune, Ph.D. I remained at Indiana University for about the next 10 years, rising to the position of Assistant Clinical Professor of Anatomy, Cell Biology & Physiology and Director of the Pre-Professional M.S. Program within that department.
In 2021, my family and I relocated to Northeast Ohio , where my wife and I accepted positions.
I highly value the process of training and mentorship and would strongly encourage any learner at any level who has taken the time to read this biography to make free use of my contact information with questions they have regarding science, medical education or the NEOMED experience.
Research interests
Research in the Goodwill Laboratory focuses on the interplay between myocardial contractile function and delivery of oxygen/nutrients via coronary bloodflow.
Overall, the Goodwill Laboratory has a goal of improving our understanding of the key regulators that link oxygen demand with delivery while also exploring how this delicate balance can become disrupted. Our laboratory employs a top-down approach beginning at the level of dysfunction and investigating which dysregulated mediators may be responsible for the imbalances associated with cardiac pathologies.
Studies routinely begin with in vivo and progress to the molecular with the goal therapeutic targets for the treatment of cardiovascular disease.
Courses
Cardiovascular, Pulmonary and Renal (CPR)
Gastrointestinal-Reproductive-Endocrine Systems (GRE)
Awards
American Physiological Society; Teaching Section Research Recognition Award
American Physiological Society; Cardiovascular Section Research Recognition Award
Society for Experimental Biology and Medicine; Burton E. Sobel Award for Excellence in Cardiovascular Research
Academic and professional activities
Editorial Boards: Frontiers in Cardiovascular Therapeutics, Review Editor (2021-current); Scientific Reports (2018-21)
Featured Presentations
Coronary Vascular Dysfunction in Obesity. AG Goodwill. Experimental Biology, Philadelphia, PA. United States, 2022-04
The Importance of PV Loops. A.G. Goodwill. The 43rd Scientific Conference of the Korean Society of Heart Failure. Seoul South Korea 2021-09
Mechanisms of Coronary Flow Control in Swine Models of Health and Disease A.G. Goodwill Experimental Biology, San Diego, CA, United States, 2018-04
Dysfunctional Adipose Tissue in Disease Pathogenesis A.G. Goodwill. American Heart Association Scientific Sessions, Anaheim CA, United States, 2017-11
Tumor necrosis factor alpha contributes to vascular dysfunction and skeletal muscle microvascular rarefaction in the obese Zucker rat. A.G. Goodwill, J.T. Butcher, J.C. Frisbee. Microcirculatory Society President's Symposium II, Washington D.C., District of Columbia, United States, 2011-04;