Ignite | Spring 2022
Jennifer Baccon: Cultivating Resilience
When life gets stressful, Jennifer Baccon, M.D., Ph.D., M.H.C.M., is used to bouncing back. That innate strength carried her through three Ivy League institutions to cap off an M.D./Ph.D. program with a Master of Health Care Management degree — earned at Harvard while leading as the chair of the Department of Pathology and Laboratory Medicine at Akron Children's Hospital and as chair of Pathology at NEOMED.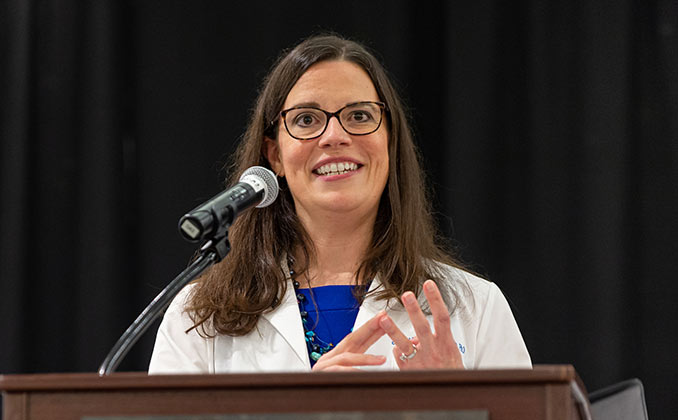 Why add that final degree in management? She felt well respected in her clinical role, Dr. Baccon said in an interview — but she wakes up in the morning thinking about finance, strategy and business operations. She wanted to develop fluency so that she could sit down with CFOs or other administrators and speak their language.
A little bit of everybody
Much of the health care management training at Harvard builds on the concept of learning how to interact with all members of the team, says Dr. Baccon. "Something that was a real growth experience for me was assignments where we were challenged to talk to everybody, from the person who sits at the front desk or as a greeter for the organization to the CEO and board members," she says. "We need to appreciate our peers and our colleagues for who they are and the experiences that they bring to the table, because you need a little bit of everybody to make the whole thing work."
She adds, "You also need to find the right balance between being visionary and forward thinking, but also being focused on the ground level. It was a great compliment when a senior leader said to me that I know when to dream big and I know when I need to roll up my sleeves and get down in the details. And you have to know the right time to switch between those two things."
Dr. Baccon intentionally carves out time to do long-term visioning and planning. "If you only fight the daily fires, you won't make great progress," she notes.
Resilient by nature — and nurture
Anxiety, depression, burnout — all of these are potential pitfalls for professionals in health care, especially for trainees such as residents, says Dr. Baccon. To support and lead those coming into the work force, she advises encouraging them to identify what makes themselves tick and to commit to it — realizing that they don't have to be perfect. 
No one is immune to low points, but when she hits them, "I bounce up pretty quickly," says Dr. Baccon. She also deliberately follows practices to lower stress, like not using her phone to do work and unplugging for time with her family in the evenings. Dr. Baccon's fortitude was put to the test when the COVID-19 pandemic hit. During the eight months when she was working long days, seven days a week, she realized, "You need to draw on any ounce of optimism you have inside and share that with your team, because you're asking people to work 24/7. You need to be a rock."
Prepared for a crisis
Dr. Baccon had trained for a career in pathology with all those degrees in hopes that if a crisis ever hit, she'd be equipped to help. When COVID closed down everyday life, she felt confident of her professional expertise, from her basic science laboratory experience in virology to her accumulated knowledge from an M.D./Ph.D. program in cell and molecular biology. Yet it was disheartening to see the public distrust of science whittle away at public trust of researchers like her, she says. An optimist by nature, it did cause some disillusionment.
Another challenge of being a leader through the pandemic? "Usually, you want a message to have some longevity to it. But with the pandemic, we were growing and learning, and the virus was developing, so we needed to give a different message to the public from week to week." That wasn't easy.
In spring 2022, things are still uncertain, but Dr. Baccon knows how to sit more comfortably with a lack of clarity, knowing she has plenty of resilience in reserve.
---