Ignite | Fall 2022
The Doctor in the City of YOU: James Kravec
BY RODERICK L. INGRAM SR.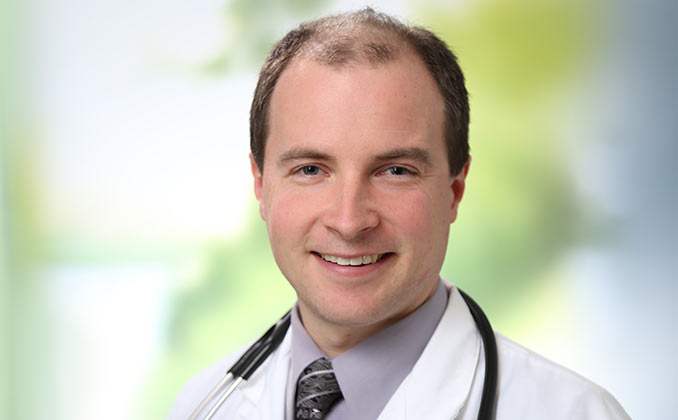 James Kravec, M.D., Chief Clinical Officer at Mercy Health Lorain and Youngstown, wants everyone to know that the city of Youngstown, Ohio, is experiencing a resurgence.
The city, once known for being a major industrial hub for steel companies, famously collapsed as its anchor of metal manufacturing declined in the 1970s. As is the case with most rust belt cities, Youngstown's days of glory were no longer. A declining steel industry, automation, job loss and corruption combined to control the city's narrative for the next few decades.
But the city that lost its metal, found a mettle of different kind in the character of its people: they were hard-working and resilient. As the city worked to diversify economically, many residents began pursuing higher education at two area universities — Youngstown State University and Northeast Ohio Medical University — leading them to obtain careers outside of manufacturing. In 1977, YSU became one of three academic partner universities to send its pre-med students to NEOMED. Since 1981, dozens of NEOMED alumni from the Youngstown area have returned to the community to live and practice as physicians.
Born and raised in Youngstown, James Kravec attended St. Christine Elementary School and Cardinal Mooney High School. He enrolled in YSU and was accepted into its former accelerated program with NEOMED— the B.S./M.D. pathway — completing three years at Youngstown State and four years at NEOMED.
"I had an opportunity at Cardinal Mooney to shadow some physicians, ­including a local cardiologist and several local primary care physicians, and really felt that my calling was to serve others," Dr. Kravec said. "My goal was to be a doctor in my hometown of Youngstown where I could hang up my own shingle and see patients … that's what I wanted to do.
"We had five in our class of 150 that year wanting to go to medical school. And since three of them went through the same program as I, it was very nice to have friends and support from those who also wanted to help people. In 1998, I transitioned to NEOMED [from Youngstown State]."
THE ANATOMY OF HARD WORK
The first year at NEOMED was particularly challenging for Dr. Kravec.
He noted, "It was absolutely the hardest year I've ever had. Some of the courses were very challenging, but anatomy was also interesting and fun, as well as overwhelming, at times.  
"The first year was also much fun despite the dedication we had to studying. Plus, I met my wife [Cindy Hancock] that year.  She was a second-year medical student and we got to know each other," he said. As she was a year ahead of him, the couple always joke that he rode her coattails throughout the medical education process.
With his best friend and classmate, Tom Macabobby, M.D., Dr. Kravec started a student group called the Association of Catholic Medical Students. He was involved in Student Council and other groups on campus as well. The more involved he became, the better he seemed to get. He managed to keep up with his studies and ended up doing very well in school. He also made a lot of friends.
"I graduated with around a hundred or so from the NEOMED Class of 2002. And there's about 15 or so of them on the medical staff at Mercy Health Youngstown. So, I still keep in touch with quite a few classmates just from that year and others," Dr. Kravec acknowledged.
Regarding his success during difficult times, he credits faculty for their teaching and mentorship, most notable was anatomy instructor Joe Bernard.
"Joe ran an awesome anatomy lab. But it was really just the way he taught us medicine and anatomy while also treating us as human beings, learners and friends that made him one of the most impactful teachers that I remember," Dr. Kravec said.
"There's something about anatomy but primarily it's the faculty and the way that Joe taught, led and interacted with students in the lab. Anatomy also was one of the cores of medicine — you have to know where things are in order to treat them, understand how they function, and understand how to fix them when something goes bad," he added.
While Dr. Kravec still applies his anatomy knowledge, he jokes (sort of) that it would be interesting to go back and learn some of the things that he has since forgotten.
He added, "Because we have forgotten so much, it would help us as physicians to relearn and remaster some of the stuff that we mastered 20 years ago."
Upon graduating from NEOMED in 2002 and completing his residency at Summa Health/Akron City Hospital in 2005, Dr. Kravec began practicing internal medicine at Bon Secours Mercy Health. Throughout, he achieved increased levels of leadership roles and responsibilities — from residency program director and clerkship director to associate medical director and chair of internal medicine. And in 2014, Dr. Kravec became president of Mercy Health Physicians Youngstown. Two years later he was appointed medical director for Mahoning County Public Health — a role he still holds.
Accustomed to serving in multiple roles at once, Dr. Kravec also leads Graduate Medical Education programs across the entire Bon Secours Mercy Health system — that is, 55 hospitals.
Dr. Kravec didn't envision being in such leadership roles when he first set out to become a physician. So, how did he end up among the chosen ones for one of the nation's largest health systems?  
JUST ASK THE BUSY GUY
Dr. Kravec said, "In 2012, I was asked by our then-CEO at Mercy Health Youngstown, a gentleman named Bob Shroder, to attend a leadership training course at corporate Mercy Health in Cincinnati. It was a long commitment with several weeks of training. And while I thought it might help me be a better core residency faculty member, I did it, even though there was no endgame.
"I just did it because he asked me to do it."
That could be Dr. Kravec's personal mantra.  
But about six months later, as he was sitting in the cafeteria, Shroder tapped him on the shoulder and invited him to lunch.  As Dr. Kravec ate his lunch, Shroder asked him to serve as the medical director of their physician group. Although he had been promoted before, this particular opportunity began Dr. Kravec's steep trajectory into executive management.
"While I did have leadership roles on student council and other groups in medical school, I never intended this to be my career progression," Dr. Kravec said.
"I'm blessed that there's a total of nine chief clinical officers across Bon Secours Mercy Health. So, we meet many times a week and talk about how we manage certain situations in our various markets. The standardization of transformation is easy when we have colleagues to count on," he added.   
Describing it as a small part of his job, he stated, "In one of my other roles, I also serve as medical director for graduate medical education for all of Bons Secours Mercy Health, where we have 55 residency programs and 550 residents and fellows that I oversee. 
"I was boots on the ground when I had just one hospital but now that I have multiple, I do a lot more work remotely because there's no way to be impactful [staying] in one place," Dr. Kravec said.
He no longer sees as many patients as he would like in his hometown, but takes equal pride in creating opportunities to bring other medical residents back to Youngstown to care for those patients.  
Dr. Kravec added, "What I am doing is bringing in medical students and residents and attending physicians to care for even more patients. I'm training them. I'm hiring them. I'm pushing them to attain their quality scores. And that's been the most important thing I've done in my career.
Continual evolution of health systems and care delivery requires physicians to possess more than clinical skills.
"You know we were taught [at NEOMED] to listen and be empathic. It's important to get good grades and it's also important to be a good person, a good listener, to be caring. I think NEOMED enrolls people with those skills and it teaches those skills," Dr. Kravec said. "But the work [of a physician] is harder than ever. The volume, the amount of phone calls, the electronic medical records. I'm worried about primary care, right now. The value. The quality."
He stressed that clinicians need to recharge to effectively manage the required multitasking.
"Mercy Health has great employee programs like "Life Matters" and "Caring for Colleagues" to help them deal with stress. We also offer social programs to put a little levity in our work," he said.
He and his wife, Cynthia Kravec, M.D., a 2001 NEOMED graduate and a Mercy Health physician, have four children — James, Sarah, Michael and Maria.
"Cindy is a great physician who lives by example. She shows me what it is like to give her all for her patients and this is as true now as it was when we met in 1998!" he shared.
Despite the demands of primary care, they maintain balance in their personal lives through activities with their kids, church and community.
It is a very busy life.   
Being busy is a good thing for the city of Youngstown and its native son (and favorite recruiter). Based upon the results of the U.S. News & World Report's "Best Places to Live" in 2022-2023, the City of YOU ranks 85th on the list of 150 metropolitan areas in the United States. That places it ahead of cities like Atlanta, Fort Myers, Honolulu and San Diego. Youngstown was also ranked fourth in "Best Places to Live in Ohio," and yes, that places it above Northeast Ohio's biggest city, Cleveland.
Compared to other U.S. cities, the report ranks Youngstown as the 10th "Cheapest Place to Live," 21st in "Best Places to Retire in the U.S." and 22nd in "Safest Places to Live."
The city along the Mahoning River, once known for its bad guys getting their comeuppance, has now come up.
"We have a wonderful community with so many young physicians and so many new NEOMED grads. There's so much growth. At Mercy Health alone, we're investing billions of dollars in our community, including a recently announced new 60-acre campus for St. Joseph Warren Hospital. We've hired 70 physicians and advanced practice clinicians over the last couple of years," Dr. Kravec said. "My point is: people are coming back to Youngstown. They aren't leaving. I'm just blessed to be able to recruit physicians back."
---
NEXT STORY